Is 'Chrome' Durable Enough to Wear the Crown?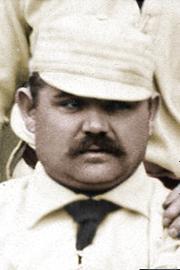 Pud Galvin
On Aug. 3, 1918, a son of leading North American sire Star Shoot made the third start of his fledging career in the United States Hotel Stakes, a six-furlong sprint for two-year-olds that, until 1955, was run annually at Saratoga Race Course.
Sir Barton was a badly-beaten ninth that day after also finishing ninth in his previous start — just two days prior. In fact, J. K. L. Ross' charge wouldn't get his first win until nearly a year later when, in his first try as a three-year-old, he won the Kentucky Derby. (Interestingly, Sir Barton was only in the Derby field to soften up the favorite, Eternal, and thus pave the way for Ross' other entrant, Billy Kelly, to win the roses.)
Four days — that's right boys and girls, four days — after he triumphed in Louisville, Sir Barton buried 'em in Baltimore, capturing the Preakness Stakes by daylight. He then won the Withers at Belmont Park ten days later, starting what would become a trend among Triple Crown champions: winning multiple times on short rest as a sophomore.
(Click on image to enlarge)
Granted, the Triple Crown (comprised of the Kentucky Derby, Preakness and Belmont Stakes) was not recognized until a decade after Sir Barton's racing career was over. Still, even before it was counted on to "save racing" every year, the Triple Crown presented a daunting challenge — one that continues to require talent and durability in near-equal measure.
Every single Triple Crown champion from Sir Barton to Affirmed, has won more than once on two weeks rest or less during their three-year-old campaigns. Citation won an incredible 14 times; Whirlaway was victorious ten times.
What's more, all the previous Triple Crown champs had won on short rest (14 days or less) prior to capturing the Preakness Stakes… which doesn't bode well for California Chrome.
(Click on image to enlarge)
Yeah, I know, times are different now… but, given that there hasn't been a Triple Crown winner since 1978 when, supposedly, horses were more resilient and robust, it does give one pause.
After all, Art Sherman, the old-school trainer of the 31st horse seeking racing immortality (and the 12th since Affirmed achieved it in 1978), has been decidedly "new school" when it comes to the five-week gap between the Kentucky Derby and the Belmont Stakes.
"I think they should change that rule and make it to where it's about a nine-week program," Sherman told reporters. "I think you'd have a lot more shooters in that race (the Preakness). You'd have a lot more Derby horses that would try it. Now you only get two or three Derby horses that go."
Sherman went even further, saying that he doesn't think it's fair for horses that didn't compete in both the Derby and Preakness to enter the Belmont at all.
"To me, if you're going to the Triple Crown, go for the Triple Crown. Don't pick your spots," he said. "Let everybody be in the same situation and do it. The Triple Crown is the Triple Crown. If you're good enough horse to do it, let's go. Make it fair where you don't have to pick and choose your spots. I think that shows what kind of horse you've got."
Sure. I would be hyped by a match race between California Chrome and Ride On Curlin — the only two horses to compete in the first two jewels of the Triple Crown — in the "Test of Champions." And, hey, while we're at it, let's make Major League Baseball games six innings instead of nine… because pitchers today just aren't as durable as they were 100 years ago.
Of the 50 hurlers with the most career complete games, only five were born after 1900 — Warren Spahn (1921), Red Ruffing (1905), Robin Roberts (1926), Gaylord Perry (1938) and Early Wynn (1920).
Heck, the player with the second-most complete games in MLB history (Cy Young holds the record with 749) is a guy named Pud Galvin.
Pud Galvin? For heaven's sake, that sounds like the name of a mechanic in Hazard County. Yet, Pud, a 5'8" 190-pound right-hander from St. Louis, Missouri, won 46 games in back-to-back seasons for the Buffalo Bisons in 1883 and 1884 — which was very helpful given that the team had only four regular starting pitchers during that time.
My point is: things change, we all know this, but that is no reason to alter traditions or standards of greatness. If California Chrome wins the Belmont Stakes on June 7 and becomes the first Triple Crown champion in 36 years, he will be even more revered for bucking recent trends emphasizing less racing and more "freshening."
He might even make folks forget about the great Pud Galvin.