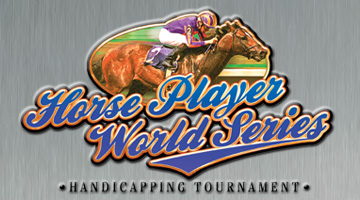 The final chapter to the story of my first trip and try at the Horse Player World Series has been written and the ending was not climatic. More of a crash and burn finish, but I'll get to that later.

First, I want to congratulate the winners, thank my tablemates, and send out personal congratulations to Eric Wing, the communications director and master of all things ceremonial for the NTRA. Eric finished in 7th place overall by stringing together three incredibly consistent days with masterful handicapping. Eric sat at the table next to me, and he is really missing his calling in life because no one could tell whether he just hit a capper horse or took a tough beat. A tremendous poker face topped only by his intellect, quick wit, and handicapping ability.

As I've written and spoken many times before my strategy for these large field tournaments is to focus on a target number that should put me in contention to win and construct plays to get to that number. For this tournament my target number was reaching 3000 points on Saturday with 5-7plays left to go. Mission Accomplished as I had 3000 points with 7 plays left. I had surmised that this would put me less than 500 points or 50 bucks out of first place. Not a high mountain to climb.

The reality was that when I had 3000 points with 7 bullets left I was 2000 points out of first place because the leader had run away and hid

;

I must admit, this took a lot of wind out of my sails and I became the horse player version of the Carnival Cruise Ship Triumph

:

dead in the water.

I basically whiffed on all 7 remaining plays and ended up in 26th position overall

,

a top 3% placing and good for some cash, but

i

t will take me a few days to figure out if I just calculated wrongly and this year's tournament was an aberration or something else. I'm happy with my placing (well I will be happy in a few days but right now I'm a bit miffed)

. A

fter all I did beat 750 other great handicappers but I'm left wondering if I was doomed to lose from the get go because of the miscalculation on the target number.

In any case, these tournaments are a great experience, meeting new friends, renewing old friendships

,

and affirming my strong belief that playing the horses is something to wear as a badge of honor and not as a scarlet letter.

I encourage everyone to give tournaments a try

--

whether online at Twinspires

--

or a local live tournament because these contests are a true, complete test of one's handicapping ability.
Michael Beychok is an award-winning political consultant from Baton Rouge, Louisiana. His horse racing site--beychokracing.com--offers picks, wagering strategies, and contest insights. Click here to see video and read a recap of Michael's 2012 NHC win.