Beychok sets sights on 2nd major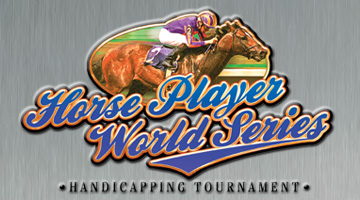 The Horse Player World Series gets underway Thursday at the Orleans in Las Vegas and I'm entered thanks to winning an entry through the Twinspires.com Online Handicapping Series that also landed me in the NHC last year. The Horse Player World Series follows by a month or so the National Handicapping Championship

and is one of the "majors"

a

long with the NHC and the Breeders Cup Betting Challenge. A win in any of these is the epitome of horse race handicapping skill.

This is my first go at the HPWS although I do remember playing a similar tournament 30 years ago in Vegas that may have had the same name, but it was held at the MGM.

For the HPWS, players make 15 bets a day. This is the same number as the NHC, but

t

he strategy is different because the NHC combines seven optional plays with

eight mandatory races. T

he

three

-day HPWS totals 45 races all at the discretion as the player.

The most often asked question I get is "how do you prepare?"

First, my preparation is not markedly different from preparing for an all

-

mandatory or a mixed mandatory/optional format contest. I focus my attention in the weeks leading up to a contest on observation of trainers, track tendencies, and horse performance. I'm looking for the trainer who is on a "heater" or the track bias that can be used to identify live long shots or on the recent winner whose performance made me take notice.

I create Horses to Watch list, a trainer to watch list, and a track bias to watch and make my selections based on those factors ... for the most part. I also keep a workouts list that has a select few horses that I'm waiting for to run-

-

mostly first time starters.

But, the second part of my preparation is just as important as was demonstrated in my win last year at the NHC and this year at the NHC where the last race decided the champion. I run through scenarios of the in the moment game strategy of "what if". What if I'm xx points out of 1st in the last day? What if I'm leading with 5 races to go or 10 and have 3 plays to make. I try to play out as many scenarios in my mind as possible so I don't end up making a crucial and ultimately costly selection mistake--as has happened in many contests. In the "end game" of one of these tournaments it is very easy to blow it on a bad decision even though you make a good selection.

Of course, this year at the NHC

--

unlike last year's victory and the year before when I finished in the top 25 while having a realistic shot to win late in day 2--the scenario that played out for many of us hopelessly behind was to hunt for extra drink tickets.

All of my preparation has been done as of Monday. I'm now just starting to go over the entries and check my aforementioned lists and hope some of my horses show up over the next few days. If they do, I'll give them a good hard look. But, ultimately being successful or not will come down to whether or not I can pick enough winners over the 3-day contest to put myself in contention for the final races. I'll make my decisions after settling in the Mardi Gras ballroom of the Orleans (that has to be a good omen for a guy from Louisiana right?) and watching a few races and hope that I can get on the heater that it takes to win one of the majors.

I'll post some thoughts throughout the tournament here

,

and you can follow me o

n Twitter

@beychokracing where I'll be making a few more observations and updates during the course of the day. Wishing all the Twinspires qualifiers good luck.
Michael Beychok is an award-winning political consultant from Baton Rouge, Louisiana. His horse racing site--beychokracing.com--offers picks, wagering strategies, and contest insights. Click here to see video and read a recap of Michael's 2012 NHC win.