In the hunt and engaging end game strategy
Play

ing to win, not to cash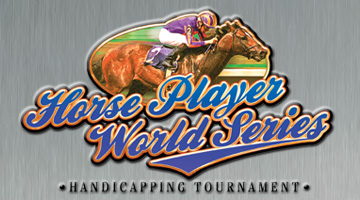 Day 2 of the HPWS is in the books and frankly, I can't even think about handicapping another race right now after having just finished two days of placing 90 bets using 3 entries and handicapping over a ginormous amount of races.
All I can say is "Wow! This is quite a marathon event." The depth of knowledge and expertise of the players in the Orleans ballroom also overwhelms me. So many great handicappers in this contest.

In comparison to the NHC, I would say that the NHC is like a mile race and the HPWS is more like the BC Marathon. Winning this tournament requires consistency, diligence, perseverance and hard work. And, of course luck.

This does not diminish in any way the NHC as it is a qualification tournament that sets it apart from the HPWS, but they both earn my designation of being the "majors" in the tournament world. It will be interesting to see how the NHC final changes next year with it moving to a three-day format.

So, we are now nearing the end game of the tournament. In my case, I was fortunate enough to catch a few winners along the way today to put myself in contention in 23rd place about 1,500 points off the pace.

This places me within the top 5% which is where you really need to be to win the overall title (I'm actually in the top 3%, but top 5% is the goal range).

Today's strategy should start much like day one and two: looking for nice middle-priced horses to move yourself up the leaderboard.

The real end game will begin tomorrow right after the east coast tracks finish or are near to finishing and those players fortunate enough to find themselves in the top 20-30 will start a new game to determine the winner.

If you are in the top 10 your selection process must change to reflect the reality that you only have to leap over a few players to reach the top. If you are further out, your odds ranges on selections must change if you want to win. Now, there will be some players who will simply want to finish in the top 10 or top 20– and that is perfectly acceptable. But, that is not how I will play. I will play to win the title and every selection I and my handicapping partner James Dickson will make tomorrow will be driven by the equation of what will it take to win the tournament.

If we are lucky enough to find ourselves near the top with a few races to go, our strategy will be driven by factors other than simply who we like to win the race or what horse has the most value. I firmly believe that some tournaments are lost by players who don't change their strategy when the situation demands a switch. I call it situational handicapping and it differs greatly from straightforward tournament handicapping. A player who is in contention must assess his/her standing, how many points/dollars it takes to win, and construct a new strategy to reach that goal depending on how many plays he/she has left. It is the tournament within a tournament and the player who recognizes this will usually come out on top.

Tomorrow I hope those players are James Dickson and myself, but good luck to everyone tomorrow.
Michael Beychok is an award-winning political consultant from Baton Rouge, Louisiana. His horse racing site--beychokracing.com--offers picks, wagering strategies, and contest insights. Click here to see video and read a recap of Michael's 2012 NHC win.