Betting the Belmont
Of all the Triple Crown races, the Belmont Stakes is probably the most "normal" from a betting standpoint. In Louisville, of course, the emphasis is on improvement — a quest for horses primed and ready to deliver a top effort on the first Saturday in May. In Maryland, the best horse usually triumphs, as evidenced by the phenomenal rate of winning favorites at Old Hilltop.
But in the Big Apple, it's all about value handicapping — finding the best horse at the best price.

Consider some of the recent Belmont winners. Yeah, Point Given and Afleet Alex were great, but Sarava and Da' Tara? The two of them never won another race. In fact, in the past nine runnings of the Belmont that didn't feature a Kentucky Derby or Preakness winner among the entrants (not the case this year, luckily), nearly half were captured by horses that failed to return to the winner's circle for the rest of their careers. Test of Champions? More like a final exam.
But what about this year's field? Is there a Point Given or Afleet Alex waiting to emerge or will it be Da' Tara/Sarava, Part Deux? Well, let's take a look at some historical norms and (hopefully) find out.
Belmont Stakes (Grade I)
Purse: $1,000,000
Where: Belmont Park (Elmont, New York).
Race Distance: 1-1/2 miles (12 furlongs).
Surface: Dirt.
Tantalizing Tidbits:
* Although it's called "The Test of Champions," recent winners of the Belmont Stakes haven't exactly reminded racing fans of Nashua or Damascus. Since 1993, Belmont victors have won just 27 percent of their subsequent starts (26-96) — after having won 40 percent of their races beforehand (60-151).
* A few recent bombs notwithstanding, the Belmont Stakes has actually been relatively formful, as the post time favorite has won 55 of 128 editions of the race in which the odds were recorded (43 percent).
* Eight of the past 10 Belmont winners recorded a better-than-"fair" (-9 or greater) late speed ration (LSR) in their last start.
* Since 1999, only two horses that competed in the Preakness — Afleet Alex (2005) and Point Given (2001) —were able to win in New York.
(Click on image to enlarge)
Speed Figures
The Belmont Stakes Brisnet speed figure par is a 107 — a number that none of this year's entrants can match. Surprisingly, however, this doesn't seem to mean much. Contrary to popular opinion, a field of horses not meeting par doesn't necessarily lead to higher prices. Using my database of over 6,400 thoroughbred races run from 2003 to present, I found that the average payoff in races featuring one or more horses that met or exceeded the race par in their last start was $12.30. When that was not the case, the average win mutuel was $12.00.
Disadvantage:
None.
Early Speed Rations (ESRs)
Over the past 18 years, the Belmont pacesetter has averaged a "moderate" -4 early speed ration and only Commendable entered the race with a mean ESR of less than -6. Conversely, come-from-the-clouds types haven't exactly met with a lot of success either, as only Jazil and Editor's note proved best in NY with overall ESRs greater than zero.
Disadvantage:
Shackleford (-7 average ESR),

Master of Hounds (+6),

Santiva (+6) and B

rilliant Speed (+9)

.


Late Speed Rations (LSRs)
As one might expect, proven late ability is a precious commodity in the Big Apple, where 14 of the last 18 Belmont champs recorded at least one "fair" (see below) late speed ration prior to passing the Test of Champions. In addition, eight of the past ten Belmont winners earned an LSR of -9 or better their final prep.
Disadvantage:
Isn't He Perfect (-18 LSR in last start),

Mucho Macho Man (-14),

Ruler On Ice (-13),

Monzon (-13),

Stay Thirsty (-12) and

Prime Cut (-10)

.

(Click on image to enlarge)
(Click on image to enlarge)
Eye on the Acorn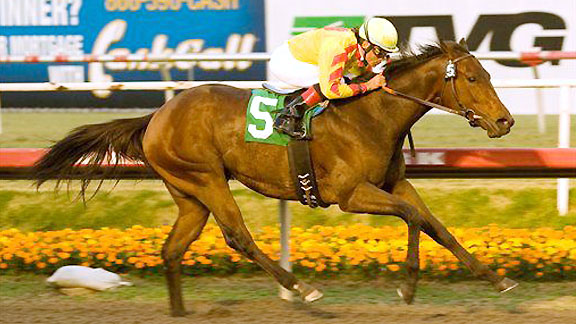 In addition to the Belmont Stakes, which highlights some of the country's best three-year-old males, this weekend's Belmont Park card also features the Acorn, a Grade I event for three-year-old fillies. Boasting past winners such as Round Pond, Inside Information, Sky Beauty, Meadow Star, Open Mind, Davona Dale and, of course, Ruffian, the Acorn is the first leg of the Triple Tiara. The Triple Tiara is the female equivalent of the Triple Crown and consists of the Acorn, the Coaching Club American Oaks and the Alabama Stakes. In its relatively brief history, eight fillies have swept all three races, beginning with Dark Mirage in 1968.
Because I enjoy being locked up in my office on warm, summer days — and since local authorities often insist on it — I decided to delve into the recent history of the one-mile spectacle and see if I could find any… uh... acorns (sorry) of wisdom that I could pass along. As it turned out, I found several.
To begin with, I'm less than thrilled with the 3-5 morning line favorite, Turbulent Descent. Yes, she could — and probably should — win, but given the results of my research, I think anybody taking less than even odds on her is, well, nutty (sorry again).
Acorn #1

: In the past 10 years, the Acorn has been won in wire-to-wire fashion an astounding five times.
Acorn #2

: Among the horses that did not set the pace, only Island Sand (in 2004) rallied from more than 3 ½ lengths behind at the half-mile call since 2001.
Acorn #3

: From 2001-on, the average ESR for the Acorn winner is a "brisk" -10.
Acorn #4

: Seven of the past 10 Acorn winners last competed in the Kentucky Oaks.
Acorn #5

: Just one betting favorite has triumphed in the Big Apple filly feature since 2001.
(Click on image to enlarge)
For my full analysis of this race, be sure to listen to this weekend's "Simon Says Racing Podcast," brought to you by TwinSpires.com.
'Pro' Update
Well, after a week of great betting, I took a huge step backwards on Wednesday. After a few ill-conceived wagers and some terribly dumb mistakes, like keying the wrong horse in a pick-3 at The Meadows (for the record, in the fourth race, Celebrity Katie was the #2, not the #3, as I apparently believed), I let my mounting anger and frustration take control. I bet on races I hadn't looked at from Delaware Park, Harrah's Chester, Evangeline Downs, Grand River Raceway… heck, I even wagered on a few events from Assinobia Downs. And you know what happens when you bet blindly at Assinobia Downs? That's right, you make an ass out of I, as well as some guy/girl named Nobia.
What made Wednesday's meltdown even worse is that all six of my prime Win Factor plays won. So, in essence, I made lemons out of lemonade and, in the process, caused my money to disappear quicker than Arnold Schwarzenegger at a Promise Keepers meeting. Hence, I have decided that drastic measures are called for: During the next 30 days (at least), I vow not to have race video playing while I am working on other stuff and I also promise not to watch any races I am betting on live.
The reason for these rules is simple: I am a child trapped inside a man's body. And until I am able to stop betting foolishly and, thus, practice what I preach — at the racetrack or sitting in front of my computer screen — I believe it's best to remove all temptations and distractions.
Frankly, I am tired of talking the wagering talk without walking the wagering walk. To know how to do something and not do it is worse (in my opinion) than being ignorant of the proper procedures. I know what I do works — I have loads of data to prove it — but, right now, I am the JaMarcus Russell of professional betting... without the signing bonus… or guaranteed contract.
(Click on image to enlarge)

Derek Simon's Free Weekend Win Factor Plays
Click HERE for this weekend's free picks.