The last big weekend
Three of the Breeders' Cup's biggest favorites could solidify that status with wins this weekend: Amazombie in the Sprint, Groupie Doll in the Filly & Mare Sprint, and Wise Dan in the Mile.
Twelve weeks ago, I presented a list of who I saw as the most likely winners of a Breeders' Cup race. My top pick, Redeemed in the Marathon, is retired, but Groupie Doll in the Filly & Mare Sprint, Executiveprivilege in the Juvenile Fillies, and the Aidan O'Brien entry in the Turf are all still very much alive in their respective divisions, although not necessarily the most likely winners of a Breeders' Cup race at this point.
Groupie Doll is certainly the most likely winner of not only the Filly and Mare Sprint at this point but also of any Breeders' Cup race. She's just looked invincible since spring in a division that hasn't had any consistency behind her. Turbulent Descent is obviously capable of running a big one, and Reneesgotzip will be interesting in the Santa Anita Sprint Championship against Amazombie, but otherwise another winner would be a legitimate surprise.
Executiveprivilege is still very much a top Juvenile Fillies contender, but with the undefeated Dreaming of Julia and Rose To Gold both looming this weekend, and Kauai Katie also having won last weekend as Executiveprivilege did, it's hard for me to call the latter filly as likely a winner as others at this point, but I respect that she flashed her talent early and hasn't backed down.
The Aidan O'Brien entry of St. Nicholas Abbey and Camelot will run in the Prix de l'Arc de Triomphe this weekend, but even if one were to win that race, it's tough to make a case for either being better than three-time Grade 1 winner Point of Entry considering no Arc winner has been able to win the Turf, though O'Brien did win the Turf with Arc also ran High Chaparral, who was undefeated when turning left.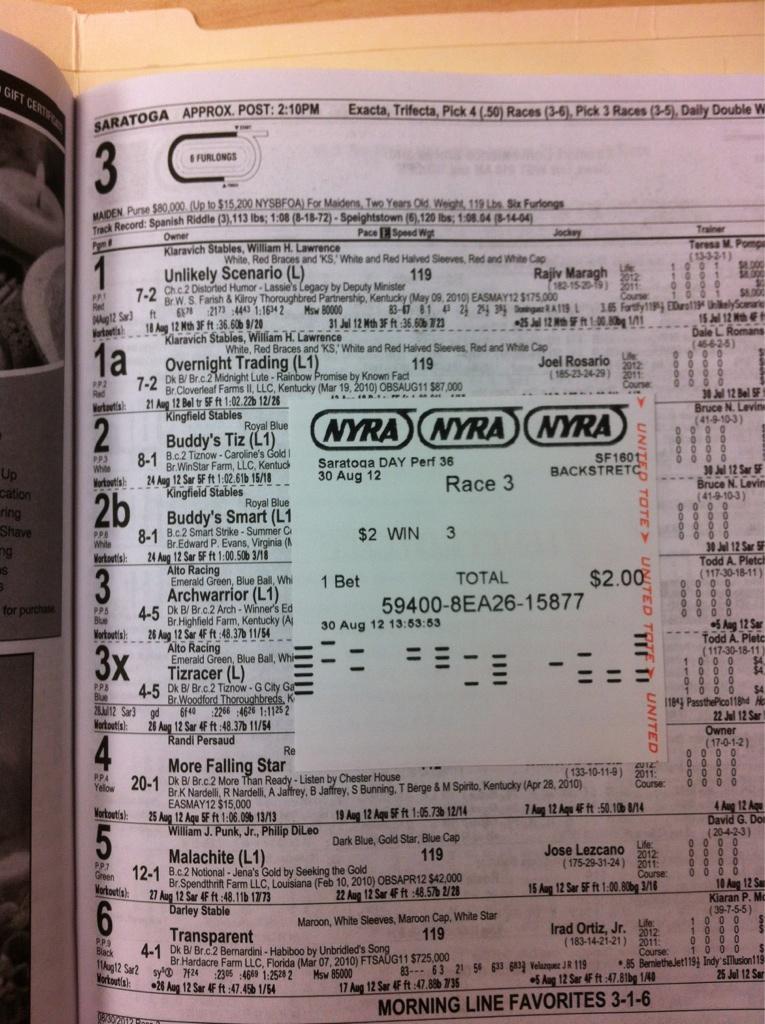 One breakthrough I do expect this weekend is among the two-year-old males. I liked Power Broker's performance in last weekend's Frontrunner, but I expect the Champagne winner to be the Breeders' Cup Juvenile favorite--especially if it's Shanghai Bobby or my pick, Archwarrior.
As you can see from the picture, I'm buying into the Archwarrior hype, and I'll keep getting win tickets on him until he loses, which could get expensive, but even if he loses on Saturday, I'd really only be out a few bucks because I can cash the Saratoga tickets.