The Triple Crown Ain't Broke
On Saturday, June 7, 2014 at 6:55 PM Eastern Time, California Chrome stood at the cusp of greatness — 1 ½ miles away from Triple Crown glory. Two and a half minutes later, he was just another in a long line of horses to fail in the Belmont Stakes after triumphing in both the Kentucky Derby and the Preakness.
2014 Belmont Stakes
And, according to California Chrome's co-owner Steve Coburn, the Belmont result was a travesty.
"This is his third very big race," Coburn said of California Chrome immediately after the Test of Champions. "These other horses they always sit 'em out. They sit 'em out and try to upset the apple cart.
"I'm 61 years old and I'll never see in my lifetime … another Triple Crown winner because the way they do this. It's not fair to these horses that have been in the game since day one. I look at it this way: if you can't make enough points to get into the Kentucky Derby, you can't run in the other two races.
"… It's all or nothing," Coburn went on. "It's all or nothing. Because this is not fair to these horses that have been running their guts out for these people and for the people that believe in them… this is a coward's way out in my opinion. This is a coward's way out."
Coburn has since apologized for his post-race tirade… and for a subsequent tirade on the "Today" show the following morning. Sadly, however, the substance of his comments appear to be drawing quite a bit of consideration from racing fans and non-fans alike — apparently, nothing creates a consensus quite like whining and moaning about the "unfairness" of it all.
So, I'm writing today to set the record straight: the Triple Crown is not an event, it is an accomplishment.
Consider: When Sir Barton won the Kentucky Derby, Preakness and Belmont Stakes in 1919, it wasn't even called the Triple Crown. That term wasn't widely used — in American racing, at least — until Charles Hatton of the Daily Racing Form popularized it in the 1930s.
What's more, when Gallant Fox captured the Crown in 1930, the Preakness preceded the Derby and, for many years, all three races were separated by less than 30 days (versus the five weeks of today). How cowardly were the "fresh" horses in those years?
The fact is "winning" the American Racing Triple Crown is no different than "winning" the Triple Crown in Major League Baseball (bestowed upon the player with the highest batting average, most home runs and most runs batted in during the season). It is no different than "winning" the Grand Slam of tennis (Australian Open, French Open, Wimbledon and US Open), which, by the way, has been accomplished exactly three times in men's singles since 1938 — twice by the same guy (Rod Laver).
OK, Derek, I hear some of you protesting, but you're missing the point: horse racing has changed. Thoroughbreds are being bred for speed these days and simply aren't as durable as in year's past.
Alright, then what are the English breeding for, sluggishness? Because there hasn't been an English Triple Crown (2,000 Guineas, Epsom Derby and St. Leger Stakes) winner since Nijinsky in 1970 — and he was the first English Triple champ since Bahram in 1935.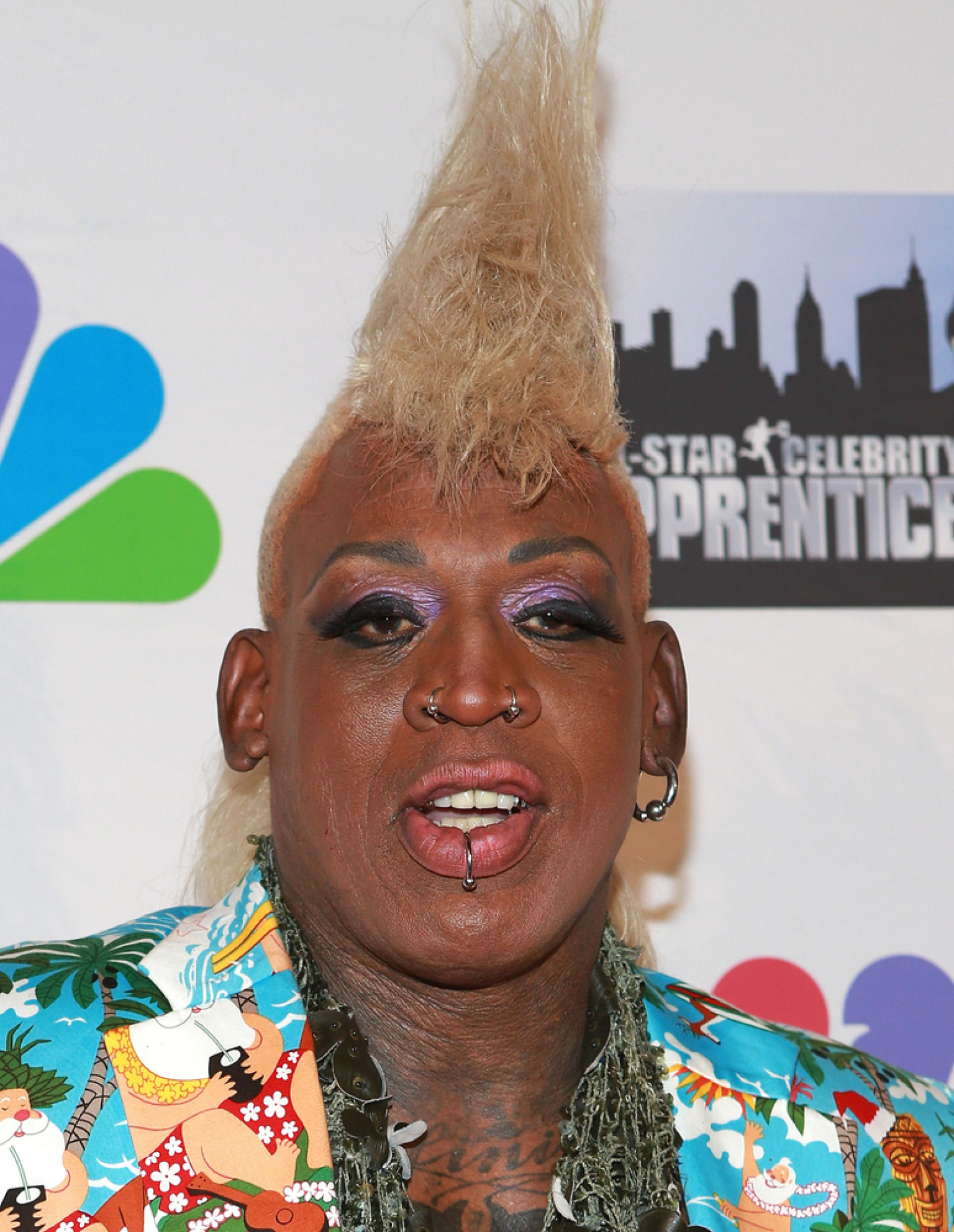 Dennis Rodman
Furthermore, all sports change. In a previous column, I noted that of the 50 Major League Baseball pitchers with the most career complete games, only five were born after 1900. Among the NBA rebounding leaders who maintained a career average of more than 13 caroms per game, only Dennis Rodman played post-1983. (As an interesting side note, Rodman also averaged 2.7 different shades of hair and lipstick per game during his career as well.)
Likewise, among the 30 NFL receivers to average 18+ yards per reception during their careers, only Flipper Anderson played predominantly in the 1990s or later.
I won't get into the reasons for this as they're not germane to this discussion, but trust me when I say we will see the 12th Triple Crown winner before we will witness the 29th .400 hitter in Major League Baseball.
The Kentucky Derby, Preakness and Belmont Stakes are independent events, all boasting a purse of $1 million or more and all worth winning on their own merit. The list of Preakness and/or Belmont winners that didn't capture the Triple Crown is legendary: Colin, Man o' War, Native Dancer, Bold Ruler, Northern Dancer, Damascus, Needles, Nashua, Conquistador Cielo, Spectacular Bid and Sunday Silence… just to name a few.
Rather than tinker with the Triple Crown format to get more champions, which would represent the ultimate sports asterisk, let's just salute those great horses that accomplished it… and appreciate those who tried and failed.