Enough About O'Neill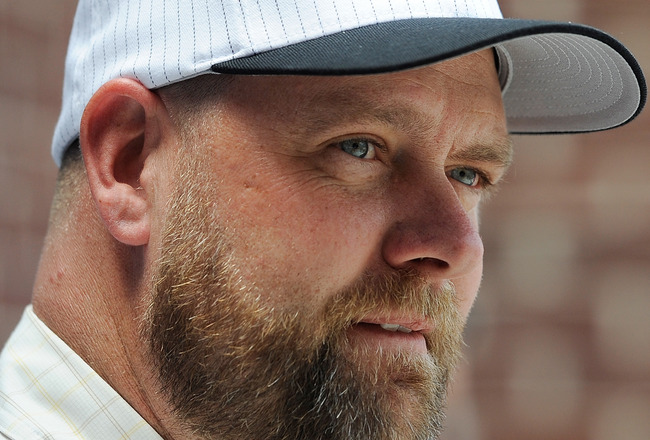 Doug O'Neill (from bleacherreport.com)
Of all the headlines I could have used to recap I'll Have Another's gutsy win in the Preakness Stakes last weekend — a win that left the sophomore steed a mere jewel short of the coveted Triple Crown — the one I ultimately chose was my least favorite.
The truth is I'd rather be talking about what a great show I'll Have Another put on at Pimlico Saturday. I'd rather discuss how the son of Flower Alley overcame Bodemeister's seemingly insurmountable three-length lead in the final furlong to win going away. I'd rather chat about the career-best 109 Brisnet speed figure that I'll Have Another earned and the very real possibility that he could become the first horse since Affirmed (in 1978) to win the Kentucky Derby, Preakness and Belmont Stakes.
I'd rather talk about anything besides Doug O'Neill.
Unfortunately, I don't have much choice… because Doug O'Neill, the trainer of I'll Have Another, is all the mainstream media seems to care about. Even before the colors of his colt's silks had been painted on the Pimlico weather vane, Doug O'Neill had become the story in the minds of some.

After I'll Have Another won the Derby, Joe Drape and Walt Bogdanich, who are fast becoming the "Siskel and Ebert" of the racing industry,
documented O'Neill's transgressions
in a story that appeared in The New York Times.
"
Over 14 years and in four different states, O'Neill received more than a dozen violations for giving his horses improper drugs," Drape and Bogdanich noted. "O'Neill's horses also have had a tendency to break down. According to an analysis by The New York Times, the horses he trains break down or show signs of injury at more than twice the rate of the national average."
The moment the results of the Preakness were declared official, the story was the same: "O'Neill Will Face Scrutiny At Belmont About Drugs" screamed the headline of one AP article I saw.
Look, I get it. O'Neill's record is clearly against him, but should that overshadow everything his horse has accomplished?
Frankly, it's starting to feel like 2008 all over again.

(Click to enlarge)
Remember 2008, the year Big Brown was a "foregone conclusion" to win the Belmont Stakes and, consequently, the Triple Crown?
Following the
revelation
that the Rick Dutrow trainee had been given Winstrol (the same anabolic steroid that led to Canadian sprinter Ben Johnson's disgrace at the 1988 Olympic Games) shortly before the Kentucky Derby — "I give all my horses Winstrol on the 15th of every month," Dutrow told the New York Daily News — a public backlash prompted the veteran conditioner to abandon the regimen prior to the Preakness and Belmont Stakes.
But the damage was already done.
When Big Brown's Triple Crown hopes went belly-up at Belmont, the speculation that "Brown" was a synthetic freak — and I'm not talking track surface here — ran rampant.
"He blew away the field at the Kentucky Derby. He made the Preakness field look like circus ponies. But on the day that would solidify his legacy and give racing a respite from intense scrutiny, Big Brown crumbled,"
wrote William C. Rhoden
in The New York Times. "He crumbled so badly that one could legitimately wonder whether he was nothing but a chemical horse, a paper tiger propped up — and propelled — by steroids."
Personally, I think such a supposition is absurd. While steroids can and do improve athletic performance, I'm reasonably certain that even the most potent 'roids on the planet won't make a bad player good… or a slow horse fast.
"Although steroids can improve performance in horses, steroid administration in itself does not assure enhanced performance,"
agreed Sid Gustafson
, a former thoroughbred attending and examining veterinarian in New York, Washington, and Montana. "Generally speaking, horses are adequately big, strong, and fast enough. Steroid administration is not always a beneficial thing, especially over the long run. There are adverse reactions and side effects aplenty. When the dosage is excessive, or sometimes even with small dosages, difficult behavioral issues often arise. The biggest problem is that horses become hard to manage and handle. They act rank. With horses control is essential to safety and performance. It seemed Big Brown was plenty frisky as he broke out of the gate for the Belmont. Behaviorally and physically, there appeared to be little appearance of a lack of steroids in the big horse's system."
So, in between debating what O'Neill did or did not do, maybe we can find some time — just a little — to give I'll Have Another some credit?

There'll be ample time to question O'Neill's record later. After all, the Breeders' Cup is coming up.
All I heard in the two weeks leading up to the Preakness Stakes was how tough it is for today's thoroughbred to race on 14 days' rest.
Thoroughbred Times correspondent and Ragozin Sheets user
Bob Ehalt
called it a "hardship," noting that "Saturday's middle jewel of the Triple Crown offers a stumbling point that runs rampant among the top contenders and adds to the mystery of the race."
"I'll Have Another was the best and fastest horse in the Run for the Roses," Ehalt pointed out, but cautioned that with only two weeks rest "it seems unlikely that he'll take another step forward in the Preakness."
"In theory, that could make him vulnerable," Ehalt wrote, "except that the 5-to-2 second choice's chief rivals are also burdened with just two weeks rest."
Well, apparently, the Kentucky Derby entrants didn't get the memo, as I'll Have Another (first in the Derby), Bodemeister (second) and Creative Cause (fifth) made up the Preakness trifecta. Meanwhile the five well-rested "new shooters" finished fourth, fifth, seventh, eighth and last.
Since 1992, horses that didn't wear themselves out in Louisville are now 3-for-128 in Baltimore.
But, hey, at least they're not bouncing.
For fun and because I rarely have time to handicap these days, I've decided to try something new with my free picks. Instead of offering just win bets every couple of months (or so it seems), I'm going to start providing a wide variety of suggested plays, relying solely on my Win Factor (computerized fair odds) Report. So be sure to check the TwinSpires blog regularly, as I will be posting stuff throughout the week.
We'll start with a mythical $1,000 bankroll and I'll update it as we go along.
Click
HERE
to get your free Win Factor Report
6th Charlottetown: $46 conditional win wager on 1-Windemere Express (minimum odds of 6-5, 0 minutes to post).
1st Hoosier Park: $46 conditional win wager on 5-Cincinnati Star (7-5, 0 MTP).
1st River Downs: $4 Daily Double 1,3 with 2.
2nd River Downs: $1 Trifecta 2 with 3 with ALL. $8 conditional exacta bets 2/3 ($6 minimum payoff on a $1 bet, 0 MTP), 2/4 ($13, 0 MTP) and 2/7 ($14, 0 MTP). $4 conditional exacta bet 3/2 ($9, 0 MTP). $2 conditional exacta bets 4/2 ($22, 0 MTP) and 7/2 ($25, 0 MTP).
11th Saratoga Harness: $16 conditional win wager on 2-Dirt Road Phil (7-5, 0 MTP). $1 Trifecta 2 with 6 with ALL. $6 conditional exacta bets 2/6 ($15, 0 MTP), 2/3 ($16, 0 MTP) and 2/7 ($23, 0 MTP). $2 conditional exacta bets 6/2 ($18, 0 MTP), 3/2 ($20, 0 MTP) and 7/2 ($30, 0 MTP).

Total Potential Amount Wagered (before scratches): $183
Profit/Loss:

-$52.00
Click
HERE to get your free Win Factor Report
5th Emerald Downs: $29 conditional win wager on 5-Epic Cast (minimum odds of 4-5, 0 minutes to post). $5 conditional exacta bets 5/4 (
$6 minimum payoff on a $1 bet, 0 MTP), 5/1 ($8, 0 MTP) and 4/5 ($10, 0 MTP).
2nd Hazel Park:
$15 conditional exacta bets 6/3 (
$16, 0 MTP), 6/5 ($19, 0 MTP) and 6/2 ($20, 0 MTP).
8th Hazel Park: $15 conditional win wager on 2-LC Tiffany (2-1, 0 MTP).
11th Pocono Downs:
$5 conditional exacta bets 2/8 (
$18 minimum payoff on a $1 bet, 0 MTP), 2/6 ($20, 0 MTP) and 2/4 ($20, 0 MTP).
5th Harrah's Philadelphia: $8 conditional exacta bets 1/8 ($12, 0 MTP), 8/1 ($13, 0 MTP), 1/6 ($27, 0 MTP), 8/6 ($30, 0 MTP), 1/3 ($27, 0 MTP) and 8/3 ($31, 0 MTP).

Total Potential Amount Wagered (before scratches): $167
Profit/Loss: N/A.