A more telling weekend
The Pacific Classic had a bigger say on this year's three-year-old male division than did the Travers Stakes.
Theoretically either Alpha or Golden Ticket could sneak into the Eclipse Award discussion by pointing toward the Breeders' Cup Classic following a win between now and then (Dullahan already has two Grade 1 wins plus he placed in a classic [the Kentucky Derby]), but the Travers bunch strikes me as not ready for primetime and evoke thoughts of playing out a loser's bracket rather than racing for a championship.
The Pennsylvania Derby will be a good, competitive, race in the same way the Travers was, but
any
hope the connections of a three-year-old has of dethroning I'll Have Another must include a Breeders' Cup Classic win.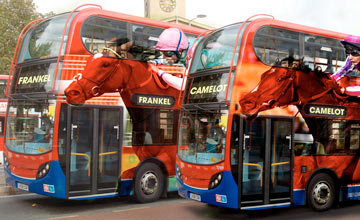 Camelot is a sort of dark horse in the discussion, as a Breeders' Cup Classic win to go with his two classic wins (and possible Triple Crown) might be enough to sway American voters in a year without any real superstars. If Frankel would win Horse of the Year with a Classic win (and he would) then why not Camelot (the assumption being that if Camelot won HotY he'd also be champion three-year-old male)?
The benefit of not having a superstar dominate the racing landscape is that the best of what's around in each part of the country face each other with some regularity, and connections of East Coast- & Midwest-based horses will have to ship West to the Breeders' Cup World Championships if they hope to secure a championship.
I don't think the Woodward winner (even if it's Mucho Macho Man or To Honor And Serve) can lay claim to being the East Coast's best since Fort Larned, Hymn Book, Ron The Greek, and Wise Dan are sitting this one out, but certainly a win by either of the aforementioned horses would enhance their credentials while a win by any of the other starters would further illustrate the parity among this year's group.
The Forego is a sort of in-between race. If Shackleford wins, it's impossible to see him cutting back to six furlongs, as the Dirt Mile around two turns is certainly in his wheelhouse, but could that path lead to a championship? If Game On Dude (Classic) and Amazombie (Sprint) both win out then which division does Shackleford reign (burrito) supreme in? Game On Dude would get HotY and older male honors while Amazombie would get the sprint nod. The same goes for Jackson Bend as well. The Dirt Mile is nice given the money and Grade 1 status, but it's not where a championship is going to be decided.