Carryover action at Turf Paradise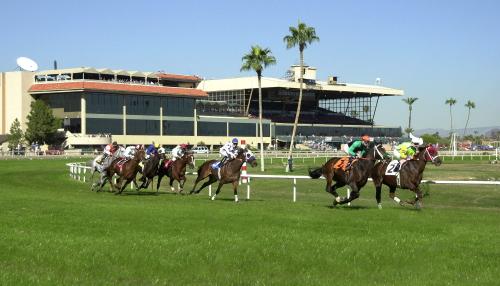 I can't exactly call Turf Paradise one of my favorite tracks to play, as I rarely check into it on a weekend day of racing, but it's definitely a track I like to play, as its Pick 5 carryovers into Monday or Tuesday help scratch my itch during an otherwise down time of the handicapping for most players.
I've actually been laying low most of this year with only a few spot plays dotting my wagering in the New Year. Between a Vegas trip at the end of this month and looking at my results for 2012, I wanted to focus my bankroll on poker a preserve a decent nut for spring racing (read: Keeneland).
That's not to say I'll ignore opportunities, though, and a $26k+ carryover into a Pick 5 certainly piques my interest. It's a navigable but not

-

what

-

I

-

would

-

call easy sequence that would cost $38,400 to buy, but I'm looking to invest about 1% of that.
There are three horses I see as the most likely winners of the five races: #7 Flawless Jewel in leg 1 (race 5), #2 Vikkilee in leg 2 (race 6), and #10 Set'n Ready in leg 4 (race 8). I'm going to play so that at least two of the three have to win.
Here's the ABC grid to riches

; post time is 4:22 p.m. EST